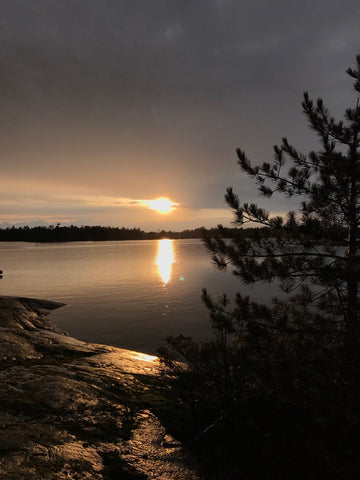 Well, it feels like we blinked and now we are back on the bay for another season. The snow is gone, the boats are in, and the bugs are back. We aren't complaining I promise- okay maybe we are complaining just a little bit about the gnats and the constant downpour of rain, but we couldn't be more excited for the months to come.
We heard you all screaming for ice cream so have no fear your calls have been answered, scoop ice cream is officially coming to the Hive. Huntsville born Belly Ice Cream will now be served out of Ciboulette et Cie who are back for another amazing year. With a new year comes new products and Ciboulette has pushed the ceiling on delicious new foods from rubs and spices to healthy snacks!
As for us, we didn't spend the whole winter sitting on beaches drinking margaritas, we did manage to mix in some great buying for the store. Hand made pottery and textiles from Mexican artisans will be gracing our shelves this year along with more new brands than we can count. Assembly Label and Afends are topping our excitement for men's and women's fashion this spring. We like to think of the Hive as the perfect blend between old and new, we have old bones with new flare, a classic name with a fresh spin, life long customers and new to the bay shoppers. Vans Shoes is a company who like us, epitomize the idea of a new take on a classic and we couldn't be more stoked to be carrying them again this year (their spring kicks line up is on fire!)
Thanks to the powers of social media we were able to spot our beloved Hive Apparel popping up across Canada. From our university students on the East Coast to our travel bugs on the West Coast, Georgian Bay went in a little way with all of you. Our wheels are turning, our little grey cells are firing, and our notepads are full with ideas for our new Spring/Summer Hive Apparel collection.
Now, we will be the first to admit that things tend to be done last minute at the cottage and that seems to leak its way into the store, so if you're like us and are leaving that gift for mom on mother's day to the last minute don't panic we've got you covered. Treat your mom to a relaxing manicure or pedicure from our spa that is back up and running for its second year.
We are officially opening our doors to the Spring/Summer season on Saturday May 13th and whether you are stocking up on spring essentials, or just wanting to check in on Georgia and the store we are tremendously excited to see everyone's faces again. Let's start this year off with some damn good vibes.
Mother's Day/Opening Weekend Hours
Saturday 9-6
Sunday May 9-5

Spring Hours
Friday 11-6
Saturday 9-6
Sunday 9-5
Monday 9-5